The Missoula County Parent Leadership Training Institute (PLTI) is a free, 20-week, anti-racist civics and leadership course that empowers parents and caregivers to become leading advocates for children. PLTI includes childcare support, meals, and transportation assistance.
Our next session begins in January 2024, and we are seeking 25 participants who see issues in their community and want to gain the knowledge and skills needed to create change! 
Apply by December 15th to join the 3rd Missoula County PLTI Cohort!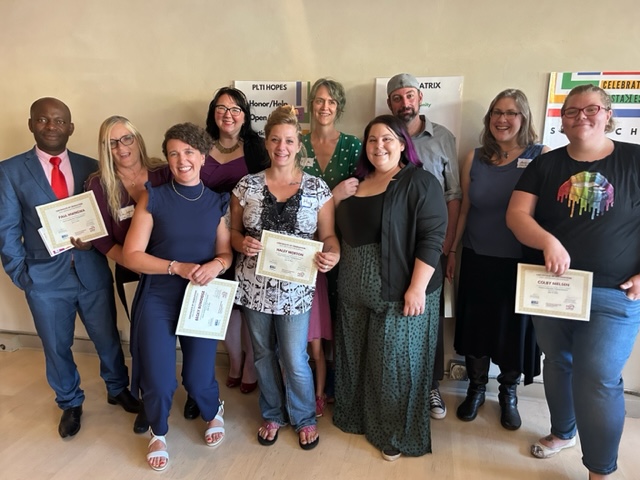 What is PLTI?
PLTI is a free, 20-week, anti-racist civics and leadership course that empowers parents and caregivers to become leading advocates for children. This intensive program is great for folks who want to learn how to improve our community but don't yet have the skills or knowledge to be confident and effective.
PLTI is a national program with 30 years of experience across the country and a local program of United Way of Missoula County's Zero to Five initiative.
Who Should Apply?
PLTI is open to 25 Missoula County parents, grandparents, foster parents, and other adults who wish to improve the lives of children and families in their community.
PLTI thrives with diversity and our participants' interests vary widely, from attendance policies at school and allotments in the state budget to access to mental healthcare and improving community support for refugee families.
If you are on the fence or have questions, we encourage you to apply! We'll touch base to schedule a 30-minute meet-and-greet, during which you can learn more about the program and make sure it's right for you.
What Will I Learn?
The PLTI curriculum includes:
A full-day retreat, to build relationships and develop goals amongst the cohort. - This takes place Saturday, January 13 from 8:30am-4:30pm at the Missoula Public Library. Meals are provided.
Biweekly classes: This year, we'll work through the PLTI curriculum during 10, six-hour classroom sessions taking place every other Saturday morning from January through early June. Weeks 1-5 focus on equity, self-perception, and leadership. Weeks 6-10 are a study of government, policy, and media. (Exact class dates to be announced soon.)
Each participant develops a community impact project that seeks to solve a problem affecting Missoula children and families. Projects are completed with support from the Missoula County PLTI Coordinator and community mentors.
PLTI offers the chance to meet with local and state-level policymakers, elected officials, media professionals, and experienced community leaders.
How do we reduce barriers to participation?
The 2024 PLTI cohort will begin in January 2024, with the exact days and times of classes to be determined by you! We We know that PLTI is a huge commitment and we do everything we can to help identify and address barriers to participation. Missoula County PLTI is offered free of charge to participating families and includes:
Child care! Free, on-site childcare for school-aged youth in partnership with Missoula Parks & Rec and/or childcare stipends during weekly sessions for toddlers, infants, or kids for whom on-site childcare isn't the right fit.
Food! Free on-site meals for participants and their families. Each weekly session includes a family meal.
Transportation assistance if needed.
---
2024 Program Dates
Final Application Deadline: Friday, December 15th
All-day Retreat: Saturday, January 13th from 8:30am-4:30pm at the Missoula Public Library. Meals are provided. Attendance at the retreat is required.
10 biweekly classes: After the retreat, we'll meet every other Saturday from 9:00am - 3:00pm for 10 classroom sessions. Classes will take place mid-January to early June, with exact class dates to be announced soon. Participants are strongly encouraged to attend all classes but are allowed to miss up to 2.
Graduation - date TBD.
Please note that all participants must attend the all-day retreat; this is when we'll build strong bonds as a group and set our intentions. While we hope you can make all of the biweekly sessions, each participant can miss 2!
The 2024 PLTI schedule was determined in-part by the scheduling preferences of our applicants. We strive to offer classes at a convenient time for the greatest number of applicants, and each year, we offer the program at a different time to ensure it is available to as many folks as possible. If the schedule doesn't work for you this year, we hope it does next year!
---
Impact
Nationally, PLTI's thousands of graduates have gone on to write letters to the editor, testify before local and state governments, start nonprofit organizations, and even run for office. Graduates of Missoula's PLTI program have pursued a wide variety of community projects, including:
A clearinghouse listing summer camp opportunities
Peer-to-peer mentoring for parents of teens with mental health challenges
A social group for single mothers in need of social connection and friendship
Civil discourse between gun reform advocates and gun rights advocates, with the goal of increasing safety for kids in schools
An after-school cooking class for elementary-aged kids
And so much more!
---
Application Process
Interested parents and caregivers should complete the quick and easy online application here by December 15, 2023.
After we receive your application, a member of the Missoula PLTI team will reach out for an informal, 30-minute meet-and-greet to get to know you better and to answer any questions you might have.
After the final December 15 application deadline, 25 participants will be selected with consideration given to their ability to attend the entire session and the diversity of the group as a whole.
---
Frequently Asked Questions
What is the Community Impact Project?
During the course, each participant will develop and undertake a community impact project to address a community problem that they are passionate about! The community impact project is where participants apply the skills they're learning in class.
Our PLTI Site Coordinator works one-on-one with each participant to help you identify a project, make a plan, and get connected to the people who can help you meet your goals. (It's okay if nothing is coming to mind; we'll figure it out!)
Your project could lead you to research school policies, improve resources for students struggling with mental health, shine a light on gaps in the childcare system, or improve safety in your neighborhood. We help you every step of the way and pair you with a community mentor who will help you think about and pursue whatever your project may be.
How much homework is there?
Applicants can expect to spend at least one hour doing classwork between our biweekly sessions, although some folks will spend significantly more time on PLTI work outside of class.
We assign homework at the end of each class but understand that our participants often have multiple jobs and multiple kids to take care of and that life always has other plans. If you can't get the homework done every week, that is ok; we want you to feel supported and encouraged to do what you can while prioritizing your family's well-being!
Your primary out-of-class responsibility will be to work on your community project plan at a pace that works for you. You must complete the project plan by the end of the course, but are not expected to complete the project itself. This work is done outside of class with ample support from PLTI staff.
How can I stay in the loop about future PLTI classes?
If you can't join us this year but hope to in the future, sign up here to be notified when applications open for our next cohort!
---
What Alumni Say About PLTI
"What I have learned through PLTI is that every parent has the power to make positive change happen, no matter how big or small."
"PLTI means empowerment, knowledge, confidence and translating passion into action. PLTI makes you rise above yourself to understand issues around us and work toward solutions."
"It's not about left or right... It's about making the community better for our kids."
"I wanted to participate in the community my children will grow up in and participate in something they would be proud of and bring others joy. As a single mother, I wanted to create a project that brings fun and friendship to a rather isolated community in Missoula."
"I've been politically motivated and driven by activism since I was a young kid - writing letters to my governor and corporations in elementary school, staging anti-war sit-ins in high school, organizing with my professional union, etc. But after our son was born, I found myself just ranting on Facebook instead of taking action. PLTI was an opportunity to gain the tools and knowledge to be an effective leader in our community, and not just a voice on social media."
2023 Missoula County PLTI Team
Rajiem Seabrook, Facilitator
Joby McCarthy, Facilitator
Destini Vale, Facilitator
Andi Hoelzel, Facilitator
Sam Duncan, Site Coordinator
Our Civic Design Team members
Jennifer Banna, Montana Family to Family Health Information Center
Molly Bradford, Gatherboard
Pam Carlton, Missoula Public Library
Kira Huck, Foundation for Community Health
Katie Little, Families First Learning Lab
Emma Young, Child Care Resources
Roe Erin, Mountain Home of Montana
Interested in learning more? Email us.
Thanks to our sponsors for helping make PLTI possible!