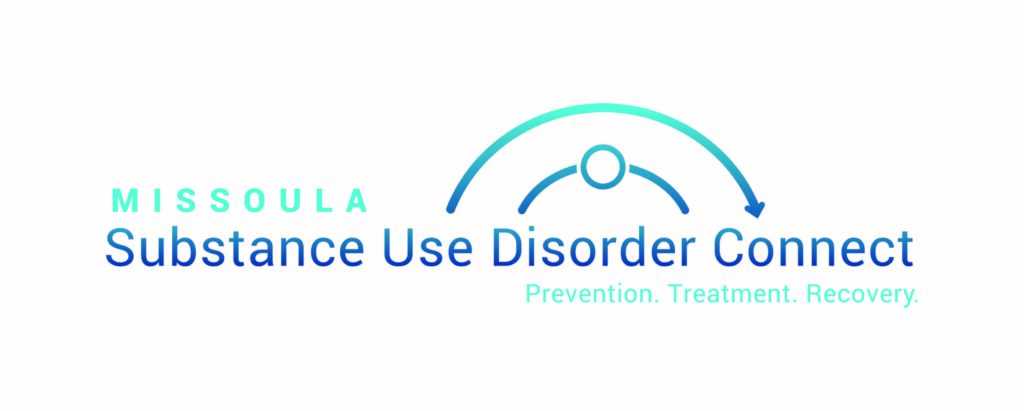 Welcome to the Missoula SUD Connect coalition page! We invite you to learn and share information and/or contact us with questions.

As we now build our coalition, we envision our group as an 'umbrella' organization that supports all Missoula County organizations, agencies, coalitions and individuals who are working in the area of Substance Use Disorder (SUD). We aim to help address SUD's from all points of contact, from Prevention to Treatment and Recovery, and including Harm Reduction, Diversion and Enforcement.

Our goals at this time are general in nature, with specific goals being determined after our Stakeholder Retreat to be held in September/ October 2021, following the release of the SUD Needs Assessment report. Current goals are:

• Goal 1: Improve agency coordination and collaboration through the development of shared goals on the part of healthcare providers, social services, justice, and corrections.
• Goal 2: Increase effective integration of evidence-based substance use prevention strategies.
• Goal 3: Increase access to timely substance abuse treatment and care.
• Goal 4: Strengthen the continuum of care to effectively manage substance use disorder in Missoula County.
• Goal 5: Identify existing and potential funding and resources that are designated to the goals of reducing drug-related crime and addiction in Missoula County.

Project Director: Shannan Sproull, shannan@missoulaunitedway.org, 406-214-4130
Project Chair: Janna Lundquist, janna@jannalundquist.com, 406-531-4658
 Timeline (so far)
2019 - 2020
U.S. Attorney Kurt Alme gave two presentations to Missoula area professionals on Yellowstone Substance Abuse Connect coalition and their work in Billings. This progressed to a grant proposal through United Way of Missoula County to HIDTA (High Intensity Drug Trafficking Area) in conjunction with the Missoula Drug Task Force.
Grant funds awarded on November 18, 2020 (see press release here). Shannan Sproull hired as the Project Director and Janna Lundquist as the Project Chair.
Fact sheet created and distributed
Collaboration with:

Yellowstone Substance Abuse Connect coalition (see website here): for guidance on coalition structure/governance.
JGRE: for Substance Use Needs Assessment evaluation re: prevention, treatment, recovery and harm reduction services in Missoula County.
SciGaia: for project management dashboard.
Washington/Baltimore HIDTA-ADAPT: for assistance in grant goals
January - March 2021
Identification of stakeholders and 1:1 meetings initiated.
Defined governance structure, Leadership Roundtable and Working Group member roles.
Monitored Needs Assessment progression.
Year two HIDTA grant proposal submitted; additional funding sources examined.
Completed evaluation plan and refined grant goals.
Kaitlyn Gaines hired as Program Support Coordinator.
Participation in/collaboration with several other similar coalitions/groups.
June 2021
Continued 1:1 meetings with Stakeholders.
Continued collaboration with JGRE and SciGaia.
First draft of Needs Assessment received.
5-27-21: First Leadership Roundtable Meeting implemented via zoom (see the notes here)
6-7-21: First Working Group Meeting implemented via zoom (see the notes here)
Preparation for Stakeholder Retreat
Participation in/collaboration with several other similar coalitions/groups.
July - September 2021
Final draft of Needs Assessment received and distributed to stakeholders for review.
Information stored into management dashboard including goals, coalition documents, user information and monitoring of progress. Ready for coalition member use.
Participation in/collaboration with several other similar coalitions/groups.
Final preparation for Stakeholder Retreat, including additional 1:1 meetings with stakeholders.
Stakeholder Retreat Sept. 22 and Oct. 6, virtual, via zoom.