"Reaching Home: Missoula's 10-Year Plan to End Homelessness" is the result of more than a year and a half of research by a volunteer working group appointed by then-Missoula Mayor John Engen and then-County Commissioner Jean Curtiss.
Missoula has a Coordinated Entry System
The At-Risk Housing Coalition officially launched phase 1 of the Missoula Coordinated Entry System on June 1, 2017. The coordinated and streamlined effort is better serving people experiencing homelessness, reducing duplication of services, and providing system-level data contributing to enhanced efforts around our ultimate goal to establish a strong "Coordinated Entry System" that makes homelessness rare, brief, and non-recurring for people in our community.
Why is the Missoula Coordinated Entry System important?
Reduces the burden on people in a housing crisis
Identifies the most appropriate housing resource to facilitate a rapid and permanent exit from homelessness
Prioritizes the most vulnerable households for housing (i.e. people experiencing chronic homelessness)
Collects system-wide data to inform necessary shifts in resources, identify gaps, etc.
Projects work together as a housing and service system (often reducing duplication of services)
Full understanding of housing barriers, and the opportunity to use data to promote change
It's a systematic response that ensures homelessness is prevented whenever possible or is otherwise a rare, brief, and non-recurring experience
Can we really end homelessness? Yes, we can!
We know that people are skeptical about the idea of ending homelessness. What does it even mean? Opening Doors: The Federal Strategic Plan to Prevent and End Homelessness has provided this operational definition that Reaching Home endorses:
An end to homelessness does not mean that no one will ever experience a housing crisis again. Changing economic realities, the unpredictability of life, and unsafe or unwelcoming family environments may create situations where individuals, families, or youth could experience, re-experience, or be at risk of homelessness.
An end to homelessness means that every community will have a systematic response in place that ensures homelessness is prevented whenever possible or is otherwise a rare, brief, and non-recurring experience.
Specifically, every community will have the capacity to:
Quickly identify and engage people at risk of and experiencing homelessness.
Intervene to prevent the loss of housing and divert people from entering the homelessness service system.
Provide immediate access to shelter and crisis services, without barriers to entry, while permanent stable housing and appropriate support are being secured.
When homelessness does occur, quickly connect people to housing assistance and services—tailored to their unique needs and strengths—to help them achieve and maintain stable housing."
More Information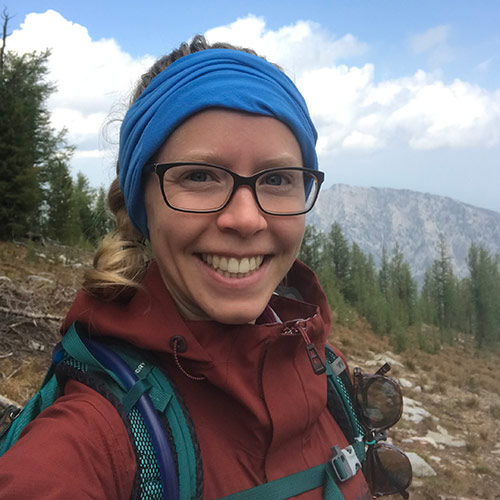 Emily Armstrong
Houseless Initiative Specialist, City of Missoula Community Planning, Development & Innovation
Emily started as the Reaching Home Program Manager on January 4, 2021. Her past work intersects a variety of issue areas including homelessness, suicide prevention, housing advocacy, and social emotional development. Her diverse program leadership includes organizing the nation's largest conference focused on student mental health, steering a youth sports collective impact effort across two states and D.C., managing a fellowship to advance mental health research, and creating and facilitating community trainings and workshops on a variety of topics. Emily deeply believes in the power of community and is excited to bring her creative and proactive energy to Reaching Home. She holds a Masters in Social Work from University of Montana, and a Bachelors in Sociology with a minor in Women and Gender Studies from Elon University. Catch her around Missoula skiing, mountain biking, or attempting to befriend one of the many cats along her walking route.
---
Federal Strategic Plan to Prevent and End Homelessness
Social security/Social Security/ Disability Outreach, Access, and Recovery (SOAR)
Missoula, Montana/Housing Community Development
Missoula Homeless Persons' Memorial
Crisis Intervention Team information
Click here for the 10-Year Plan
Reaching Home Videos
What Does Reaching Home Do?
What is Missoula Coordinated Entry System?
What is
Reaching Home?
Why Reaching Home Matters
Sandra's Story
From Winnie Lohof with PATH at Western Montana Mental Health Center
Race in the Missoula Coordinated Entry System/Homeless Management Information System
A real-life perspective from the Temporary Safe Outdoor Space, Linda's story
Temporary Safe Outdoor Space – Highlights
Old Sawmill District and Wetherbee Group Real Estate donate 125 new space heaters to United Way of Missoula County to help vulnerable households
Building relationships/finding solutions through better coordination
How many people experience homelessness in Missoula?