What is Recovery and Recovery Support?
Recovery signals a dramatic shift in the expectation for positive outcomes for individuals who experience mental and substance use conditions or the co-occurring of the two.
SAMHSA's working definition of recovery defines recovery as a process of change through which individuals improve their health and wellness, live self-directed lives, and strive to reach their full potential.
Today, when individuals with mental and/or substance use disorders seek help, they are met with the knowledge and belief that anyone can recover and/or manage their conditions successfully. The value of recovery and recovery-oriented systems of care is widely accepted by states, communities, health care providers, peers, families, researchers, and advocates including the U.S. Surgeon General, the National Academy of Medicine (NAM), and others.
Hope, the belief that these challenges and conditions can be overcome, is the foundation of recovery. A person's recovery is built on his or her strengths, talents, coping abilities, resources, and inherent values. It is holistic, addresses the whole person and their community, and is supported by peers, friends, and family members.
The process of recovery is highly personal and occurs via many pathways. It may include clinical treatment, medications, faith-based approaches, peer support, family support, self-care, and other approaches. Recovery is characterized by continual growth and improvement in one's health and wellness and managing setbacks. Because setbacks are a natural part of life, resilience becomes a key component of recovery. (SAMHSA)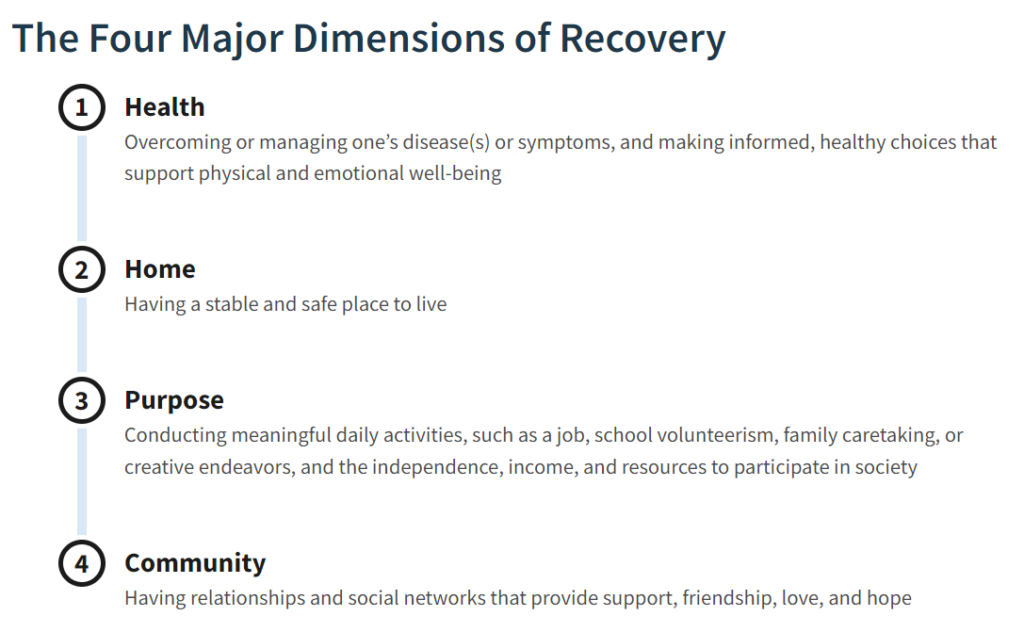 What is a Recovery Residence?
"Recovery residence" (RR) is a broad term describing a sober, safe, and healthy living environment that promotes recovery from alcohol and other drug use and associated problems. Many thousands exist in the United States that vary in size, organization, and target population. (The exact number of recovery residences is unknown since many RRs are not regulated by government or independent organizations.) At a minimum, RRs offer peer-to-peer recovery support with some providing professionally delivered clinical services all aimed at promoting abstinence-based, long-term recovery. Recovery residences are sober living environments, meaning that residents are expected to abstain from alcohol and illegal drug use. Each credentialed recovery residence publishes policies on relapse sanctions and readmission criteria and other rules governing group living. Recovery residences may require abstinence from particular types of medications according to individual policy. (NARR- https://narronline.org/)
The purpose of a recovery residence is to provide a safe and healthy living environment to initiate and sustain recovery—defined as abstinence from alcohol and other non-prescribed drug use and improvement in one's physical, mental, spiritual, and social wellbeing. Individuals build resources while living in a recovery residence that will continue to support their recovery as they transition to living independently and productively in the community. (NARR -https://narronline.org/)
What services do Recovery Residences provide?
Recovery residences are divided into levels of support based on the type as well as the intensity and duration of support that they offer. Services provided span from peer-to-peer recovery support (all recovery residences) to medical and counseling services (recovery residences offering higher levels of support). (NARR-https://narronline.org/)
What Recovery Homes are in/near Missoula County?
Graham House
What Recovery Services are available in Missoula?
There are 12-step groups, mutual aid groups, substance-free activities and recovery residences.
What Recovery Services are available outside of Recovery Residences?
Several outpatient-based recovery services are available in Missoula County that are able to meet the needs of all individuals.
Local Resources
Crosswinds Recovery https://www.crosswindsrecovery.org/
Recovery Center Missoula https://www.wmmhc.org/recoverycenter
Stepping Stones https://www.steppingstonesmissoula.com/